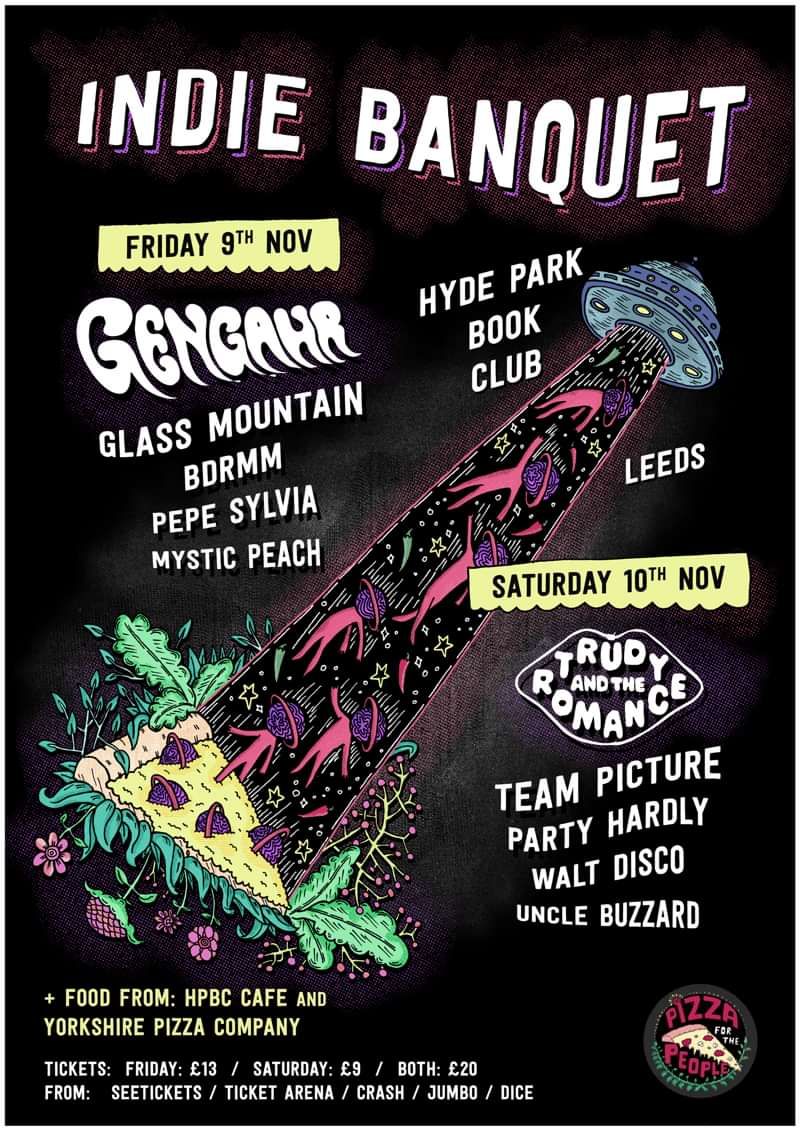 Pizza For The People presents:
Indie Banquet Mini Weekender (Weekend Ticket
Gengahr + Glass Mountain + BDRMM + Pepe Sylvia + Mystic Peach + Trudy and the Romance + TEAM PICTURE + Party Hardly + Walt Disco + Uncle Buzzard
Buy Tickets
This is a full weekend ticket
Line Up
"… Brave and fascinating …" CLASH MAGAZINE
"… Firmly in the cinematic alt-rock category, they make sky-high, life-affirming guitar music that empowers and devastates in equal measure … with a heart-wrenching balance of aggression and delicacy; a rare and faultlessly ambitious debut …" XYZ MAGAZINE
"… They have a dramatic, at times haunting sound that ticks along rather beautifully; they definitely warrant further investigation, so try starting with the quite stunning Glacial …" OUTLINE MAGAZINE
It's fair to say that 2016 was a good year for GLASS MOUNTAIN. Arriving without fanfare in June with their debut GLACIAL EP, a release that grabbed the attention and imagination of the likes of Clash Magazine and Tom Robinson at BBC Introducing, and earned the band the highest accolade at the Leeds Music Video Awards, GLASS MOUNTAIN continued to mesmerise until the year's end. Taking immense pride over everything related to the band, those brief six months spawned beautifully crafted gatefold CDs, 10" vinyls, cassettes, their own magazine and highly-prized T-shirts.
Performances at Bingley Music Live, The Secret Festival and Leeds University Refectory enhanced their reputation further, whilst shows with the likes of Evil Blizzard, Las Kellis and Elvis Depressedly – shows that, on paper, appeared at best improbable – proved the band's ability to win over pretty much any audience, regardless of setting or genre. The year ended with GLASS MOUNTAIN being invited as full tour support on the seven-date Embrace tour in December.
Now, as we enter 2017 with a collective trepidation, GLASS MOUNTAIN return with their second release, the two-track COWBOY SONG | MORE THAN THIS single, out on 17 March. COWBOY SONG, which has appeared in their live set for a number of months now, soars and swerves with a bravery and delicacy that reflects the lyrical sentiments; truthful and poetic, and accompanied by waves of crashing guitars that soar immeasurably. If anyone feared that GLACIAL was the band's singular mesmerising, breathtaking epic … well, fear not.
MORE THAN THIS, a cover of the Roxy Music classic, appears here more akin to the soundtrack of a David Lynch film; brooding, spine-tingling, anthemic. The inspiration comes from Bill Murray's halting, inebriated, life-affirming karaoke rendition of the song towards the end of the film Lost In Translation. He may appear to be delivering the song to everyone in the bar but the reality is that, whilst rarely looking at her, he's singing every word exclusively to the character played by Scarlett Johansson. And it's clear that she knows. It's a beautiful scene and GLASS MOUNTAIN more than do it justice.
Taking their name from a David Hockney etching, and requesting the permission and personal blessing from the artist to do so, GLASS MOUNTAIN formed eighteen months ago in Bradford, steadfastly proud of the city's heritage yet fully conscious of the neglect and under-investment their city has had to endure. Through adversity and austerity, however, great art often shines; and GLASS MOUNTAIN shine brilliantly.
GLASS MOUNTAIN care very deeply about their band, and it's becoming more and more clear that the songs they are writing, recording and performing have a longevity that will resonate far beyond this year, beyond next year and beyond many years to come. We hope you like them.
MARCH
Fri 03 YORK Fulford Arms | with False Advertising + Chambers + Push | Sat 11 LEEDS Lending Rooms @ The Library | with One Sided Horse | Thu 16 LEEDS University Refectory | with Hawkwind | Fri 17 NOTTINGHAM Rough Trade Records | with Autumn Diet Plans | Sat 18 STOURBRIDGE Scary Canary | Headline | Sat 25 PRESTON Ferret | with One Sided Horse |
"… Their sound is huge, cinematic and breathtakingly bold …" LEEDS MUSIC SCENE
"… Each track is orchestral and ambient and soars in crystalline sparks …" THE NATIONAL STUDENT
"… Their songs smoulder like embers before suddenly sparking into flames as though a blast of oxygen has hit …" BIRMINGHAM LIVE
"… Glass Mountain have etched something beautiful in a city of adversity; art that they should be particularly proud of …" THE YORKER
"… Glacial is a mesmerising masterpiece, a heartbreaking ode to unrequited love; the band's first single has taken the UK music scene by storm …" FLICK OF THE FINGER
"… Breathtaking alternative rock … their arrangements are complex; their lyrics confessional and poetic; they're artistic without being inaccessible; and they're one of the most promising and accomplished new acts in recent memory …" THE INDIE-PENDENT
"… In their arsenal lies debut EP Glacial, an amalgamation of brave, angst-ridden and mesmerising tracks that all seem like they'd fit brilliantly into the end of any art-house film; lyrically introspective and musically acerbic, Glass Mountain are a band that soar with powerfully delicate ballads …" RIOT
GLASS MOUNTAIN are:
• HARRY HANSON | vocals and guitar
• LEWIS JOHNSON-KELLETT | guitar • WILLIAM SAND | bass and keyboards • JONATHAN NEWELL | drums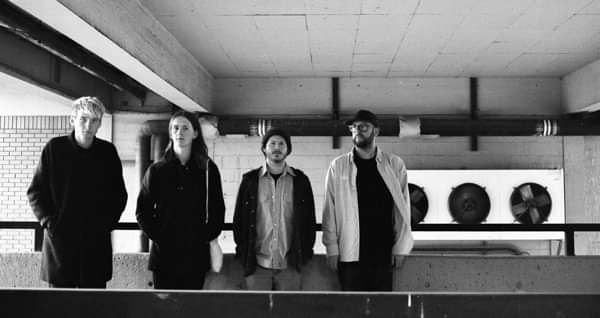 Formed in the early hours of 2017, Ryan Smith took his solo project, from bedroom to stage in what feels like an instant.
Creating the fully fledged band we know today, bdrmm formed with brother Jordan Smith and good friends Danny Hull, Luke Irvin & Joe Vickers. This 5-piece have been rapidly injecting a much-needed burst of summer freshness into the Hull music scene. Sounding like the perfect cocktail of synth pioneers Beach House, jangly slackers, DIIV, and otherworldly shoegazers Slowdive. This troop have been honing their sound to epic proportions ever since
Quietly bubbling away under the radar, bdrmm have all but blown up over recent weeks with the release of their most recent single 'Kare' and a slew of new admirers. Number #1 on Hype Machine and Number #5 on MTV.com's top stories provide example A and B.
As well as picking up radio play from BBC Radio 1 & Amazing Radio, the boys played to a capacity Tramlines show at Bungalow and Bears and have already played up and down the country with the likes of Phobophobes, Her's, Trudy & the Romance, FEHM & Horsey.
"bdrmm make gleefully noisy pop with an electronic bent, matching the humane to the digital with effortless ease." - Clash Magazine
"a masterclass in bedroom pop." - DORK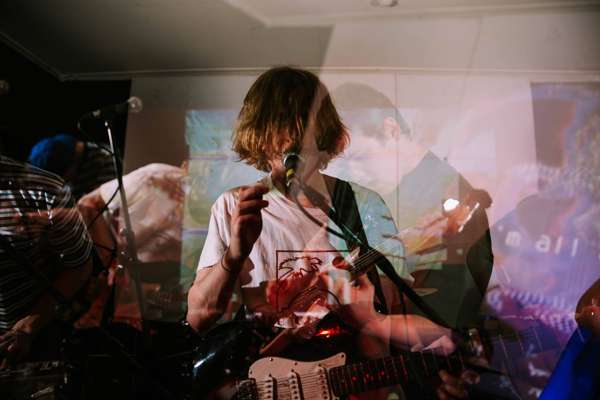 Ladies and gentlemen, hot off the block it's the kids that pop your cotton socks off, Trudy and the Romance baby.

Professional genre tourists and consummate knob twiddlers, TEAM PICTURE are 6 individuals from Leeds who want to take you for a delicious audio picnic in a great big field of fuzz beneath a sky of molten weirdpop somewhere on the outskirts of a village in which Kristin Hersh and Bradford Cox are elected members of the local governing body. They're also probably the most polite band in the UK.
'A relentless wall of fuzz' - The Line of Best Fit
'Lo-fi, lush, and expansive' - DORK
'Do not listen while operating heavy machinery' - The Revue
'Feels like it could batter it's way through brickwork' - DIY
'Uncontrollable churning psychedelic guitars' - Too Many Blogs
'Dignified Newcomers!' - Niche Music
'Not on my original list' - Steve Lamacq, BBC6 Music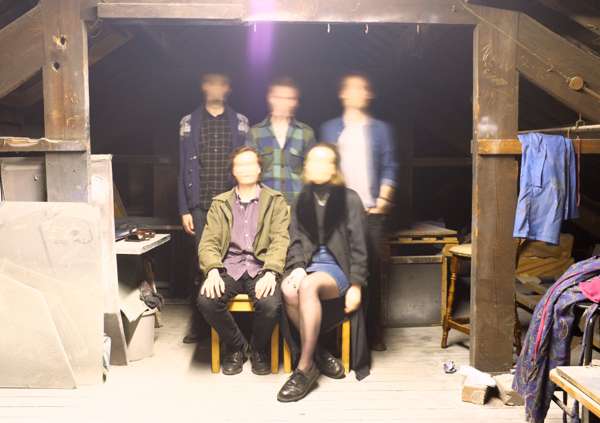 Party Hardly are a band of four well-mannered individuals (Tom Barr, Lachlan Banner, Matt Pownall & Stan Braddock) based out of Leeds that someone was once overheard saying sounded like "Blur meets surf-y rock with a bit of Beach Boys shoved up its arse". The band was initially dreamt up in the bedroom of lead singer Tom Barr's house with the boys Matt, Stan & Lachlan back in early 2016. Since these bedroom beginnings, their style has been refined and cultivated into something truly special. Throughout their early life as Party Hardly they have developed a growing reputation for dreamy sets around the North, supporting the likes of Trudy & The Romance, Mouses, Yowl, Bruising, Diet Cig, Cowtown, INHEAVEN & The Magic Gang.
Party Hardly combine sweet sounding harmonies with woozy pop-fueled catchy guitar riffs to great effect and the gang have been in and out of the studio in recent months which has resulted in their first two singles Friendly Feeling & Jobs which were soon followed by double A side single Oh My God & Have We Got Time, released on Witchgirl Recordings. With more studio time booked in throughout 2017, keep an eye out for more from Party Hardly & catch them in a town near you soon!
Contact Details
Mangement: Ryan Morgan info@pizzaforthepeople.co.uk
Band Email: Partyhardlyy@gmail.com